What Does Business Process Reengineering Involve After COVID-19?
Just as the federal government, states, and municipalities are developing and releasing plans for re-opening, business owners and leaders must develop a plan for re-opening. These plans need to be simple, concise, and to the point, in order to ensure the health of your team, customers, and suppliers. These plans should also include your new realities for operating your business. Most of the methodology for business process reengineering we have researched include the following steps for business process reengineering:
Bring employees back to work, safely.

This initiative includes plan steps as recommended by the CDC and the WHO.

See examples for details of plan steps & additional steps listed below.

Develop and enhance your cash flow model.

This initiative includes ensuring monies received via a loan under the Cares Act (PPP loans) is properly spent and recorded in accounting records. It also includes gathering supporting documentation to prove current economic uncertainty to ensure the maximum possible forgiveness.

See examples for details of the plan steps below.

Maintain or increase sales.

This initiative includes plan steps to build a healthy sales funnel and increasing marketing activities to let existing and new customers know you are open for business.

Update our overall measurement system.

This initiative includes ensuring you are updating your measurements to add or delete certain measures that are critical in phase 1 of re-opening.
How Business Strategy Is Developed After COVID-19
Get started building your plan today. Work Excellence uses a work improvement business plan template as one of its five core elements of work. In order to help as many organizations and teams as possible, we are making our work plan available to your organization free of charge. Our template includes the critical elements necessary to create and execute a plan of action.
Below is more detailed information to adding to your employee safety plan:
Send out a notification to all team members that self-reporting and quarantine are still required.

Include in this notification how you will assist each team member to stay safe upon returning to work.

Post notifications on all entrances and send out the same notifications that anyone (employees, suppliers, customers, and visitors) with symptoms must not enter our premises or interact personally with our team.

Any non-team member entering our premises must have an appointment and must wear a mask and practice social distancing.

Purchase and provide necessary PPE (Personal Protection Equipment) for all employees.
Develop a management system to ensure deep cleaning protocols are followed.
Post signs throughout the premises to inform everyone on the premises about the requirements to maintain social distancing.
Post signs in meeting rooms.

No more than 10 people are allowed in any meeting room; only when social distancing can be maintained.

Determine non-critical employees that can continue to telecommute during Phase 1 of reopening.

Communicate to all employees your expectation of returning.

Set up a lobby, waiting areas, break rooms, cafeterias, and restrooms to accommodate six feet spacing.
Develop a list of additional items that can be assigned to personnel that is "not fully utilized" and assign leaders to manage these items.

This may include painting, cleaning, Five-S projects, or other improvement projects to work "on the business".
Learn More Steps for Business Process Reengineering
If you need assistance to ramp up your remodeling, construction, landscape, electrical business, or any other business, we are here to help. Ask us about our COVID-19 Disaster Recovery Plans for small and large business owners.
Contact us to know the steps for business process re-engineering & what is the best future business ideas that will grow and ramp -up your business.  Contact us now!
The Work Excellence Team
Brian K. Cain
Co-founder
Additional Resources to Learn About Our Business Re-engineering Method
Five Steps in Business Improvement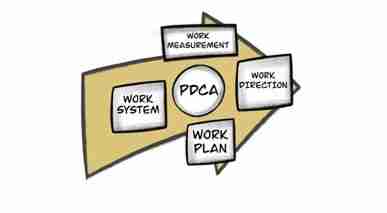 Additionally, Check Out Our Webinars